The Sisterlocks Installation is the biggest and longest process of your Sisterlocks journey.  This is where your patience will be tested!  Don't worry, we will make the most of it and have fun along the way!
Your Sisterlocks Package
Sisterlocks Consultation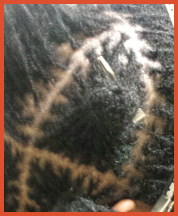 The first and most important process of your complete Sisterlocks Package is the consultation.  During this 30-60 minute session we will accomplish many things.  First, it will allow me to get to know you and your hair.  We will also discuss any expectations you may have of me as your Sisterlocks Consultant and the process as a whole.
The consultation is tailored to YOU and YOUR specific hair type. Together we will discuss:
Why you want Sisterlocks
What does your family think about you "considering" Sisterlocks
What have you learned or researched about Sisterlocks
…and any other questions you may have.
During this consultation, between 6-12 sample Sisterlocks will be installed.  This is to give you the client an opportunity to get a feel for what it's like to wear, maintain, and care for Sisterlocks on a daily basis.  In other words, "Try Before You Buy!".
Sisterlocks Installation
After a completed consultation, we will begin your Sisterlocks installation at a pre-determined appointment.
For Sisterlock and Interlock installations, a $100.00 non-refundable, non-transferable deposit is required two days after scheduling your appointment.  Payment is required upon completion of services.  For services requiring multiple days, full payment is required at the end of the service on the first day.
Preparation
Just as an artist uses blank canvas to create beautiful works of art, a Sisterlocks Consultant must begin installation on a clean and healthy head of hair.  To ensure the most successful installation, please adhere to the following guidelines *beforehand:
Wash your hair 24 to 48 hours beforehand.
Ensure your hair is free of oils and conditioners.
Do not blow-dry your hair.
As this is a private session, please understand no guests are allowed to accompany clients during services.  As we will be together for several hours at a time, we must do everything possible to ensure the process is a pleasurable and enjoyable  experience for the both of us.
Sisterlocks Maintenance / Follow-Up
In addition to your Sisterlocks Consultation and Installation, the complete Sisterlocks Package includes the following:
A 2 week follow-up shampoo
A 4 week follow-up retightening
A review of your Sisterlocks to inspect for slippage and overall health of Sisterlocks
and a Sisterlocks Starter Kit.
Click here for more information on my Sisterlocks Maintenance!
Cost of Sisterlocks
The fees for Sisterlocks Installation can be found on our Cost Of Sisterlocks page.
* If these guidelines are not met, a rescheduling of your installation appointment may be necessary.
Book an appointment with Tess!