Sisterlocks in Dallas, Servicing the DFW Metroplex and beyond.
Welcome!
I am glad that you took the time to visit my website.  I'm even happier that you are considering Sisterlocks, Brotherlocks, or Interlocks on your path to embracing your natural beauty.  Even if you are already on "the path", I'd be ecstatic to serve you as your Certified Sisterlocks Consultant in Dallas!
"Don't remove the kinks from your hair, remove them from your brain." – Marcus Mosiah Garvey
The decision to return to natural hair can be difficult for some.  It is a decision made for many reasons.  Some may rebel against the slave mentality that suggests black and kinky hair is ugly and less beautiful than straight, "good hair".  Others may make the decision for health reasons (Creamy crack is wack!).  There are others that simply want a low-maintenance head of hair that is just as versatile.  Whatever the reason, I am glad you are making the decision!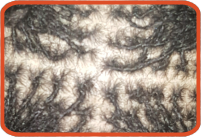 My mission is to help women and men of color embrace their natural beauty, a natural beauty created by God.  Thanks to Dr. JoAnne Cornwell, I am able to do just that with Sisterlocks!  Although I service the entire North Texas area and beyond, I primarily install and maintain Sisterlocks in Dallas as well as the DFW Metroplex.
As your Certified provider of Sisterlocks in Dallas and the North Texas area, I pride myself in providing excellent customer service, a warm and calm atmosphere, and quality work with attention to detail.  I won't have you in my chair all day either!   While your loc installation time is the longest time you will spend with me, your regularly scheduled maintenance (sisterlocks retightening) are typically between 2½ to 3 hours. Unless of course we're laughing and having small talk about our locs and how we wish we'd gotten them sooner  :-).
Thank You for visiting Tress By Tess, and I look forward to hearing from you soon! With Love, TressByTess – Contessa "Tess"
Sisterlocks™ method created by Dr. Joanne Cornwell.